CONCEALER FOR MEN
Flawless skin?
When you look at all the big male stars these days, one of the first things you'll notice is their perfectly flawless skin. You might think that it's just pure coincidence that all these guys look so good when in glossy mags, when they're being interviewed, or if they're even on TV. You may also think that their awesome complexions are simply down to good living. However, in reality, you couldn't be further from the truth. Many male celebs not only rely on airbrushing when in magazines, but they also take out that extra male grooming insurance policy in the form of makeup and concealer for men.
The ultimate guide, for you
Applying concealer may sound like a daunting chore, especially as you almost certainly won't want anyone to see you putting it on, or notice that you are wearing makeup. However, in fact it's a lot easier than you may think. With just a few practices making perfect, you too can master the art of male concealer and say goodbye to all those lingering imperfections every day men have to contend with. You know the ones: acne, blemishes, dark spots, dark circles and even redness. The truth is, gentlemen, if you choose the right concealer for you specifically, you'll soon be working it like a pro and more importantly, getting away without anyone noticing. In today's Ultimate Guide to Concealer For Men, we'll take you step by step through the process of achieving a champion complexion that won't blow your cover!
Minimal effort, maximum results
Men wearing concealer is actually a thing nowadays, as illustrated by the sheer volume of male concealers that are coming onto the market. Requiring minimal skill to master, dabbling in a little cover up is actually as easy as applying an under eye cream, after shave balm or lip balm. There is no shame in upping your grooming game gentlemen and with the increased amount of natural looking concealers out there, wearing makeup product like this has never been more masculine. On top of our useful guide to mastering concealer, we'll also point you in the direction of some really good concealers out there at the moment that you need to help your skin and transform your confidence! Let's go!!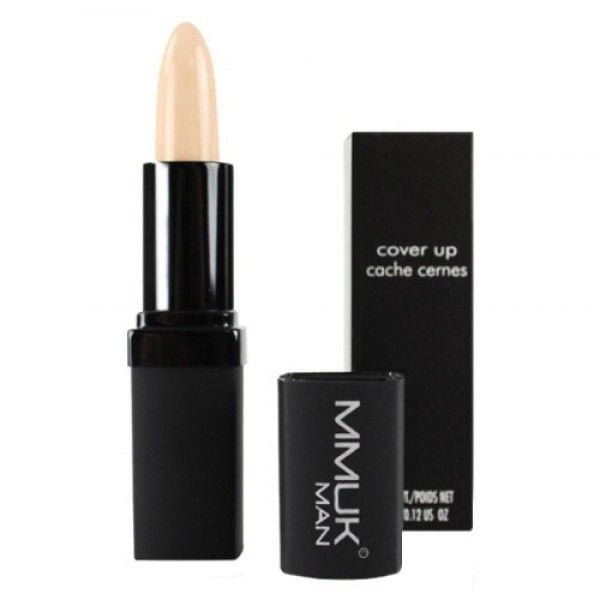 HOW TO Apply concealer for men?
STEP 1
Start off by thoroughly cleaning your face with a good cleansing routine, pat dry it and apply your normal daily moisturizer, beard products (if you use them), and under eye cream, before letting them set and dry for about a minute. If you don't wear facial moisturizer, it's a massive step towards improving the overall condition of your skin and a good one needn't cost you the earth!
STEP 2
Next, apply the concealer with a clean fingertip or an applicator wand/brush that they come built with. Apply in gentle dabbing technique, concentrating firstly on the area of most discoloration, before working the product outwards to blend in with the rest of your skin. If you choose a stick form of concealer, this can be pressed directly onto the areas of concern, before dabbing in with your fingertip in exactly the same way.
STEP 3
Afterwards, take a slightly damp application sponge, or blending brush and delicately blend any excess product into your face in a dabbing motion. Be careful not to swipe or pull the applicator across your face as you may remove freshly applied concealer. Finish off by applying a light dusting of Invisible Blotting Powder or Pressed Powder a couple of minutes later, just to ensure your concealer stays on and in place all day long. You do not need to apply too much powder, as this is just a minor finishing touch.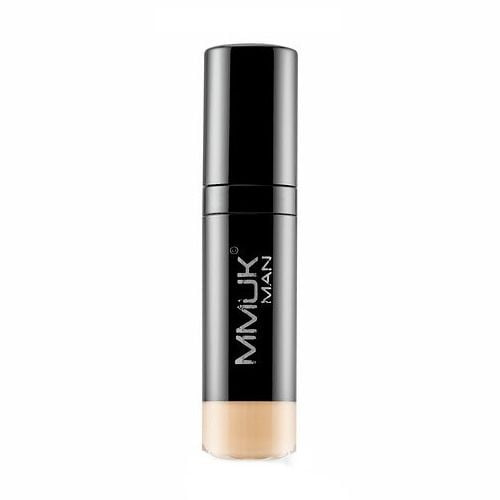 WHY DO MEN WEAR CONCEALER?
cOVER UP ACNE AND SPOTS
One of the main reasons men wear concealer is to cover up the appearance of scarring, acne and spots. We've had many younger men come to us, seeking advice on how to make their faces look clear and whilst a religious acne control skin care regime should be followed, most of us mere mortals still face the odd breakout. The only real way to battle such breakouts is to deploy the use of cover up, by camouflaging these little blighters, you really will feel your confidence sky rocket!
OLDER MEN WITH EYE BAGS
Skin Camouflage is also very popular for older men who are struggling to fight off the appearance of dark circles, eye bags and fine lines around the eyes. Looking younger and revitalized to these older gentlemen is imperative, whether they have a big meeting coming up, date or some other special occasion, where they really do want to look and feel their best. We've also been lucky enough to work with male models and TV presenters who really need a HD ready complexion, before they go in front of the camera. Concealer for this purpose is very effective and has significantly boosted their appearance when the lights go on.
SCARS AND SKIN TRAUMA
Men also wear concealer to cover up scars, whether it be from acne, skin grafts, skin trauma or birth marks. As most of these types of imperfections tend to smooth over with the passage of time, it's actually very easy to camouflage them with the use of a cream based concealer. Guys who suffer from redness, skin irritation and even uneven skin tone may also be interested in using concealer, although for larger areas of issue on the face, combining it with a foundation for men always proves to be very effective.
Overall, men choose to wear concealer to cover up their problematic skin and just generally feel good about themselves once more. Combine this with a natural looking concealer that won't fade and you really do have an explosive recipe for grooming success!
WHAT KIND OF CONCEALERS ARE THERE AND WHO ARE THEY FOR?
There are in fact a few different types of concealer for men out there. "Why can't there be just one for all my imperfections?" You might ask. Unfortunately, it comes down to the different types of skin problems you might be facing at any given time, guys. What works well on dark circles and wrinkles, might not work so well on break outs and redness. But, don't panic, it's actually pretty easy to find out which ones you will need. We'll cover them below:
LIQUID CONCEALER FOR MEN
Is most men's weapon of choice and it's well worth adding to your grooming arsenal. Liquid concealer is buildable and suits pretty much every skin type out there. It does a sterling job at covering breakouts especially, as well as spots and blemishes and will not cause further breakouts by clogging your already under pressure pores. Liquid concealer doesn't tend to cake up and instead leaves the skin in pure matte perfection. A radiant liquid concealer is great at covering fine lines and wrinkles, as it doesn't crease throughout the day and is especially great at covering under eye bags and circles. Our recommendation: MMUK MAN's Under Cover Liquid Concealer, which is also perfect at camouflaging breakouts.
STICK CONCEALERS FOR MEN
Offer a full matte coverage that is very buildable. Great if you're combining it with other makeup products, such as foundation and bronzer. Coming in a stick form, they are very easy to apply and are typically thick and creamy, meaning they can be swiped onto a specific problem area and blended in with a blending brush, to offer great coverage of spots, rough, skin, redness, scars and even sun damaged skin. Their thickness are their great advantage and their fullness means they are great at covering severe skin imperfections, including deep set dark circles under the eyes. Our recommendation: MMUK MAN's Concealer Stick For Men.
CREAM CONCEALERS FOR MEN
Is a perfect option for fighting discoloration, as well as pigmentation problems and conditions such as Melasma and Spider Veins. Such concealers normally come in a pot form and offers intense coverage for men who need to unify their skin with thick buildable coverage.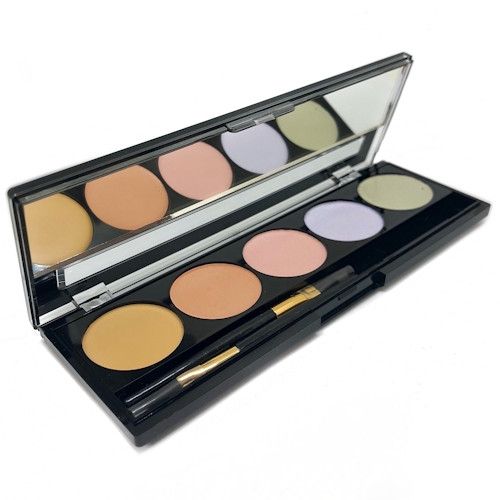 HOW DO I CHOOSE THE RIGHT COLOUR OF COVER-UP?
The first thing we'd want to say about men's concealer colours is that you need to know a few basic rules. When dealing with dark circles and under eye bags you should deploy the use of a concealer that is one or two shades lighter than your natural skin tone. However, if you apply that shade of concealer to a blemish, breakout area or spot, you're only going to highlight them more. For these types of blemishes, choose a concealer that is much closer to your skin tone, or even one shade darker. Most manufacturers make choosing the right colour of cover up much harder than it needs to be in our opinion. MMUK MAN have aligned all manufacturers colours to our skin tone palette , with the below descriptions being a good indicator of what one is for you. Remember though, if you're stuck on this part, you can send us in a photograph of yourself, or the back of your hand, and we will let you know your skin tone, usually within hours. Send your request to info@mencare.com.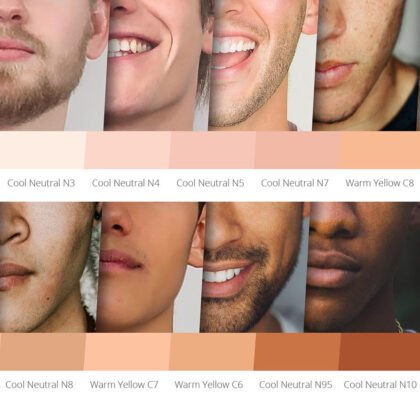 The different colors
N3 – Very pale skin
N4 – Slightly pale skin
N5 – Fair skin
N7 – Tanned skin
N8 – Very tanned skin
N9 – Indian skin
N10 – Dark skin
CAN I USE MEN'S CONCEALER ON IT'S OWN?
You CAN get away with using concealer on its own. However, it's always highly recommended that you combine it together with applying facial moisturizer and eye cream beforehand, just to give your skin that perfect head start. One great thing about men's concealer is that they do not contain fragrance, meaning that they are suited to every skin type, which is especially important when applying it around the eyes, as they do not cause irritation or damage. You may also wish to blend two shades together guys, in order to get your ideal skin tone, however, this is rarely needed.
DISCOVER ALL CONCEALERS HERE
SO GENTLEMEN,
when it comes to men's concealers, we've covered all bases to help you decide what kind of concealer is best suited for you.
From liquids, to powders, to under eye concealers, you'll never have to worry about seeing breakouts and blemishes ever again!
Outlining some of the best men's concealers in the industry, this complete review, we hope, will drive your confidence into the fast lane. Don't forget to check out Youtube as well, where there are plenty of concealer tutorials for men out there, to help you get properly to grips with application.
CHECK OUT OUR CONCEALERS
subscribe to the mencare e-magazine